Check how to replace the rubber tracks
thanks to our TUTORIAL
Replace your rubber tracks following our easy step-by-step tutorial. In this way you will avoid mistakes during the process.
We've made this guide upon the most frequently asked questions by our customers on rubber tracks replacement.
Watch here our video tutorial.

Don't forget to add it to the favourites to keepit always ready to watch. Follow our channel to be always updated!
Download also our tutorial on how to replace the rubber tracks here.

Download and print our guide on how to replace the rubber tracks. You can bring it with you and check it immediately when needed.
Read our new post ➡ Rubber tracks: better to replace them in pairs or alone?
and how to ➡ How to measure rubber tracks
We also leave our tutorial "how to replace the rubber tracks" on top on our website 😉
HOW TO REPLACE A RUBBER TRACK
1 FIRST STEP LIFT UP THE MACHINE USING THE BOOM AND THE BLADE.
Unscrew the bolts from the side cover.
Behind the cover there is the
nut of the idler adjuster.
Release the nut of the
adjuster to slacken the track.
---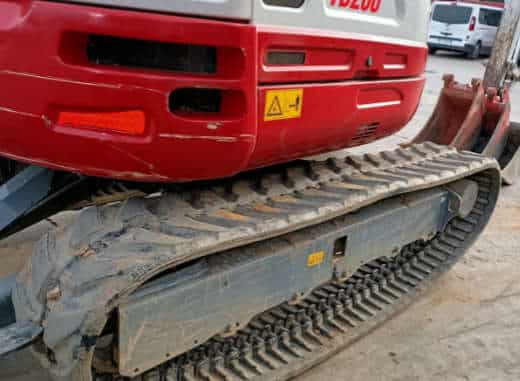 2 PUT PRESSURE ON THE TRACK WITH A WOODEN OR METAL BAR TO PUSH THE IDLER BACK AS FAR AS IT GOES
| | | |
| --- | --- | --- |
| Position of the idler before the grease comes out. | Leak of grease inside the nut case. | Position of the idler after the grease leak. |
---
3 IDLER
When the idler has gone as far as possible,
the track will look loose as in this picture.
Put a metal bar on the idler and replace the track rolling it slowly.
---
4 ONCE THE UNDERCARRIAGE IS CLEAR, CHECK THE FOLLOWING:
Clean the undercarriage from ground or other objects.
| | |
| --- | --- |
| Check for missing or loose internal and external bolts. | |
| | |
| --- | --- |
| Check that the upper and lower roller rotation is clear. | Check the slack of the sprocket and the idler. |
---
5 PLACING THE NEW TRACK
| | |
| --- | --- |
| Place the new track on the side of the machine. | Check that pattern direction (if directional) is pointing towards the blade. |
---
6 POSITION THE RUBBER TRACK USING A METAL BAR OR A JACK
Position it starting from the sprocket and then on the idler helping the fitting moving the sprocket slowly.
---
7 ONCE THE RUBBER TRACK IS PLACED
Add grease (with the help of a pneumatic or manual grease gun)
until the track is tensioned according to the right specifications
of the user guide of the excavator.Tighten the tensioner valve until the limit and loose it for an half-rotation leaving a little slack.
---
8 TOLLERANCE
Run the track slowly whilst the machine is lifted
up to check that all run smoothly.

Once the track is tensioned correctly, block the nut of the idler adjuster and close the side door.

As in the specific example of the TB260 it is recommended
to leave 9-10 cm slack below the middle roller.